Benefit Concert
Thank you:
We would like to thank everyone who came out to support glenhagen farm retreat and Second Story!  The benefit concert was a HUGE success.  We greatly appreciate your support.  We would also like to thank our musicians for putting on an amazing and fun-filled concert!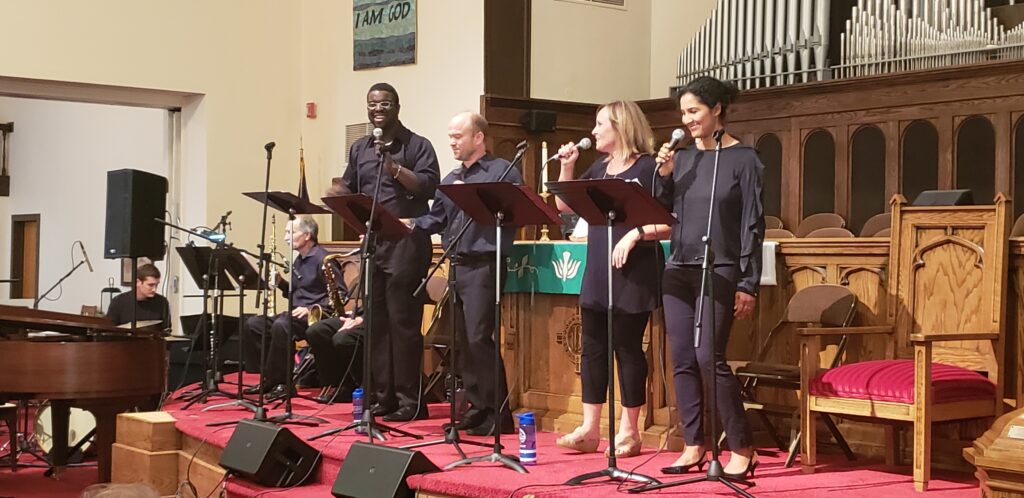 Vocalists: Daniel Riley, Matt Bowker, Lisa Bowker, and Angel Underhill

Tickets:
Tickets can be purchased at the Johnson Carpet Shoppe (1033 N. Main St, Princeton, IL) Monday-Friday from 9:00-5:00 p.m. and on Saturday from 9:00-3:00 p.m.
Tickets can also be purchased at Second Story Teen Center (above the Johnson Carpet Shoppe) on Tuesday nights from 4:00-8:00 p.m. and on Friday nights from 6:30-11:00 p.m.
Or you can email glenhagen farm retreat at julie.portillo2011@gmail.com or call (815) 719-3379.
Sponsors:
Sponsors will have their name and amount of sponsorship listed in a program distributed at the concert and on our website.  We are seeking sponsorship contributions at levels of $250, $500 and $1,000.
Music:
The music will be an array of family friendly tunes from the pop music world, including artists such as Josh Groban, Jason Mraz, James Taylor, Stevie Wonder and Sarah Bareilles, and songs such as Peace, A Time for Healing, and Put a Little Love in Your Heart.
You can check out the following videos for a taste of what you will hear at the concert:
Meet the Musicians:
Daniel Riley (Singer)
Dan has performed in professional and community venues all over Chicago and the suburbs, including Lyric Opera of Chicago, Metropolis Performing Arts Center and Court Theatre. A lifelong resident of Chicago, he studied at Roosevelt University. As a member of the band The Embraceables, Dan released an album (Stories, 2010) and performed in twelve cities as part of a twelve-stop tour to New York. He regularly sings with the Schola Cantorum Cathedralis at Holy Name Cathedral, and can be heard on Voices on the Dark Side's a capella Dark Side of the Moon (VOCOMOTION Records, 2006). Most recently, Daniel appeared in the ensemble of Paramount Theatre's production of Sweeney Todd. He is currently appearing in Buddy: The Buddy Holly Story at the American Blues Theater in Chicago.
Matt Bowker (Singer)
Matt has been singing in radio and television commercials since he could walk. His claim to fame is introducing Fruit Roll-Ups to the world! He sang with Choral Thunder (the best gospel group around) for four years and it was there he learned how to clap on time and inspire.
Angel Underhill (Singer)
Angel is a singer/songwriter who lives with her husband, daughter and two cats in Pilsen–the best Chicago neighborhood ever! She received her BFA in Musical Theatre from Millikin University and has performed in a variety of shows like West Side Story and Do Black Patent Leather Shoes Really Reflect Up? at the old Drury Lane Theatre in Evergreen Park, and Play On! based on Shakespeare's Twelfth Night at The Goodman. Recently, she and her fellow Lakesiders — Jill Greenman and Lisa Bowker — created and performed in a new cabaret called 3Broads on Relationships. In her spare time Angel enjoys metalsmithing, writing poetry, and visiting the cupcake ATM.
Lisa Bowker (Singer)
Lisa is a singer/songwriter originally from Louisville, Ky. Though she trained in classical music in New Orleans, she ultimately earned her doctorate in clinical psychology and now makes her living in private practice in Chicago and Evanston. Lisa has been a member of the Lakeside Singers since its second year. She spent many years playing with roots and country pop bands around Chicago, but more recently has launched the 3Broads cabaret series with two of her fellow Lakesiders, Jill Greenman and Angel Barrette Underhill.
David Onderdonk  (Guitarist) 
In 1976, David started his career as a classical guitarist. From 1978-1980 he gave concerts in Europe, Central and South America, and throughout the United States as a Modern Dance accompanist. He moved to Chicago in 1980 and began making connections in the Jazz community working in various Jazz clubs around the city including Andy's, The Green Mill, and The Jazz Showcase.
Between 1984 and 1985 he released two albums on Quaver Records ("Close Call" & "Lookout"). This CD received a four star review in Downbeat Magazine. In 1996 he was a featured guitarist in JAZZIZ magazine for their "Guitars on Fire" issue. His studio recording work includes CD's, TV jingles, documentaries (A&E with Bill Kurtis), and a movie soundtrack ("Off The Map"). In 2005 he released an album of Renaissance guitar music as an independent project.
He has played and/or recorded with Michael Feinstein, Kurt Elling (three Grammy nominated albums), The Lakeside Singers, Fareed Haque, Terry Callier, Grazyna Auguscik, Fred Simon, and Marlene Rosenberg. He has also appeared on recordings with Pharoah Sanders, Mavis Staples, Cassandra Wilson, Mike Stern, Howard Levy, Paul Wertico, and Paul McCandless among others. He is currently a member of the Chicago Jazz Composers Collective.
Bobby Schiff (Composer, Arranger, Conductor, Pianist, Producer )
On the Chicago and Los Angeles music scenes for over 35 years, Bobby Schiff has led orchestras and bands, performed on piano and keyboards, directed, composed and arranged for and with the best. Mel Torme, Peggy Lee and Bobby Rydell, are just a few of the premiere entertainers and musicians he's worked with in the U.S. and internationally. He has recently returned from Wayne Newton's overseas Thanksgiving 2001 USO tour, accompanying Ruth Pointer.
Several years in Los Angeles provided feature film and television opportunities in composing and arranging. Playing in L.A. record studio recording sessions with such greats as Marvin Hamlisch and Jerry Goldsmith, kept up his performance "chops".
On a day to day basis, Bobby is working primarily in Chicago as one of the nation's premier vocal arrangers and accompanists. Playing, arranging and producing albums for numerous independent artists; he also performs with his own jazz trio at several Chicago venues.
Andy Tecson (Saxophonist)
Andy has led the ChurchJazz ensemble since 1982. The ChurchJazz band has been heard internationally on the BBC, nationally on CBS and performed at numerous churches and church assemblies throughout the United States.  While studying at the Ludwig Maximilian University in Munich, he toured with jazz and pop bands throughout Germany, including Munich, Berlin, Hamburg, Hannover, Stuttgart and Bayreuth. Upon returning to Chicago, he performed with Steve Goodman, Howard Levy and Jump in the Saddle. In 2016 he performed his Chicago Jazz Mass  in Berlin. Andy composed the Jazz Passion along with Bobby Lewis and Bobby Schiff, with a libretto by David Abrahamson.  The Jazz Passion was performed in Chicago, New York, Leipzig, Berlin and Slovakia in 2017.
Corporate Sponsors:
Both glanhagen farm retreat and Second Story Teen Center would like to thank the following sponsors for helping both organizations live out their missions through their support of the benefit concert –
           Albrecht Well Drilling Inc.
           Alore Design
           Andy Tecson & Nancy Hagen
           AgriEnergy Resources
           Bickett Farms
           Bridges Electric
           Flowers By Julia
           Hornbaker Gardens
           Jaxx Plumbing
           Kathy Clarke
           KBC Solutions
           Kent Bickett
           L.W. Schneider
           May, May, Angel, & Harris
           Princeton Redimix
           Russell, English, Scoma, & Beneke
           Wal-Mart Distribution Center